Download The Escapists 2: Pocket Breakout for Android
4,5
Description
Meet the sequel to the legendary game The Escapists 2: Pocket Breakout on android from the team of developers from "Team 17"! In the new part of this prison simulator you will have new and exciting adventures in upgraded locations, which you can spend in the company of friends, using the network game mode.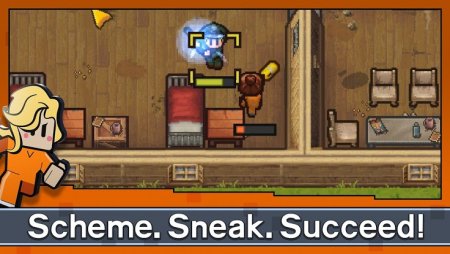 The aim of the game, as in the original, is to escape from the prison. Of course, in order to escape from a heavily guarded facility, you will need quick action and teamwork. In addition to you, in network play mode on (split-screen) can be three more of your friends or acquaintances.

Just like in the previous part, in TheEscapists 2: Pocket Breakout you are not limited in your actions. You can attack the guards from behind using surprise, or carefully rob them using sleight of hand. However, you should remember that in prison, i.e. in a secure facility, you should follow the daily routine and move around the prison at a strictly defined time.

                                       


The advantages of this game on android:

-Support for network play mode

-Support for up to 4 players on one screen

-Added new maps

-Added new tools
Download The Escapists 2: Pocket Breakout for free
Download game